When building a new home, you have a lot to think about in a short period of time. From different contractors, to the choice of materials used.
With all these decisions to be made it is easy to forget some of the simple things. We see it time and time again in Brisbane, electrical considerations being forgotten with new builds or renovations. It's these considerations which can make your house unsafe, less efficient and plain inconvenient if overlooked. Fuse Contracting have created a simple list of electrical considerations to consider while you are in the early planning stages.
Practical lighting
Lighting is a crucial part to any home. If you have ever googled lighting design, you'll know how complex it can be. Your home is most likely not an art gallery, so we don't have to get too fancy with the lighting design. We do, however, need the lighting to suit the selected areas and be functional. Our team of electricians can assist you to make sure you get it right the first time.
For instance, some rooms require more lighting than others. The kitchen, office and bathroom are just a few areas where lights need to be bright, efficient and correctly illuminated for the area. Due to the cost-effectiveness and environmental-friendliness we recommend LED lamps for these high-use areas. Fuse Contracting can assist you with any discussions or uncertainties you may have to ensure the fittings chosen are suitable and provide the optimum illumination for each area of your home.
Ambient lighting

So, there's practical lighting, then there is ambient lighting. The light switches, bulbs and fixtures you may want to spend more of your allocated budget towards customising. Why? To give your house a homely feel, a romantic feel or even to help your sensitive eyes. Dimmers can adjust the brightness and are a component of ambient lighting. Some people love dimmer switches, other people strongly dislike them, we have a client at Redland Bay who wanted dimmer switches in every room!
Personal preference also impacts the colour of light used in a home. A client in Mount Cotton only likes yellow light, so we worked with that to make sure they were receiving enough practical light as well as achieving the ambience they desired. As your trusted Brisbane electrician, we are happy to discuss all ambient lighting options of with you.
Power points
Power points are by far the most overlooked aspect when building a new home. It is crucial to sit down and evaluate the room and its usage very early in the planning stages. Once you have the usage determined we are able to help you to find the most suitable product/s. With the ever changing market there are continuously new products appearing on the market, from blue tooth speaker lamps to built in USB power points we can find the right product for you.
Fuse Contracting are experienced in power point placement, we are able to determine the correct amount of power points required and 'normal' places for them to be in each type of room. We can easily and very quickly sit down with you, and a floor plan of your house, and establish where the base power points need to be and ask you questions to determine the best placement for others. Fuse Contracting is available to discuss with you the best options available and are able to suit the power points to your family's lifestyle & décor, allowing you peace of mind and saving you money and avoiding the addition of power points in the future.
Safety Switches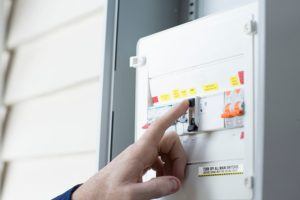 Safety switches are an important electrical aspect for any home. Safety switches allow faults on the located circuit to be shut down instantly, allowing time for the fault to be rectified by a licensed electrician before more damage can occur. They also provide necessary protection from electric shocks and from electrocution.
At Fuse Contracting we believe the more safety switches the better! In fact, we recommend them to be installed on all circuits. The benefit of this is peace of mind, you know that if anything occurs on a circuit in your home it will be rectified as soon as possible, which reduces both the risk and damages, while not affecting other circuits.
Smoke Alarms
You don't need a Mount Cotton electrician to tell you how important smoke alarms are. We don't need to reinforce the fact that smoke alarms are your family's first alert system during a fire. Smoke alarms save lives, and with the new legislations recently introduced it is best to get your home or business up to standard as soon as possible.
We have recently posted an article explaining the changes, read and understand more about it here. Smoke alarms aren't something that you are legally allowed to overlook when building a new home. However, by contacting an electrician you'll be sure your smoke alarms are in the best areas to work efficiently and in line with all new legislation.
If you have already thought about, discussed or actioned the considerations we have mentioned, then you are in the clear, great work! If not, if you are on the Southside, Northside or even Bayside of Brisbane, we highly recommend you contact us in order to help get you back on track.